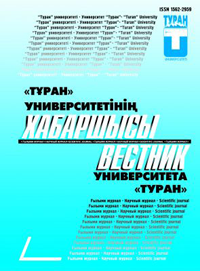 "Bulletin of the Turan University" has been published since January 1999 on a quarterly basis.
ISSN 1562-2959 is the registration number assigned by the ISSN International Centre in Paris.Publishinglanguages are Kazakh, Russian and English.Subscription index is 75665.Total for years 1999-2012 (October) 55 issues of the magazinehave been produced.
The magazine is designed for a wide range of employees in science, education and business representatives.The magazine discusses and analyzesthe actual problems of social development, sustainable development of the country, to improve the quality of education, legal and social protection of the citizens of the republic.
The most important principle of the magazine is the principle of integrity - the indissoluble unity of science, education and business life as well as the applied orientation of published materials.In this connection, the journal posts materials on various issues.This is a new social policy, the growthof efficient and competitive modern industries, the development of IT-technologies, the growth of the information component economy, the formation of an integralKazakhstani model of innovative development, methodology, theory and technology of education and training.
Variety headings of the journal allow covering the fundamental theoretical materials on a wide range of modern economic problems on current legal issues, the development of tourism, education, information technologies, social sciences and humanities. Their authors are the prominent scientists of Kazakhstan, near and far abroad.
Link to the official website of the scientific journal: vestnik-turan.kz