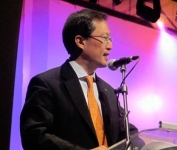 Youngsuk Chi
Almaty – Scopus and ScienceDirect National License signing Ceremony
Wednesday, February 26th 2014
Length: 10 – 15 minutes

My name is YS Chi, and I am the Chairman of Elsevier. I'd like to thank you all for being here today. I'd also like to thank President Ibrayev and the Kazakhstani Ministry of Education and Science Consortium for inviting me to take part in this ceremony, and of course Professor Zhurinov for moderating the ceremony. I am grateful for the opportunity to celebrate our growing relationship and to share our expertise towards the common goal of promoting Kazakhstani research on the global landscape.
I'm delighted to be here in Almaty and, more broadly, in the rich Republic of Kazakhstan. Your country holds a significant place in history at the crossroads of cultures—from prehistory to today. Kazakhstan is an old land, but it's also an innovative one, and one that has successfully adapted to change throughout history.
• Your ancestors were a nomadic people, by definition experts in adaptability, who thrived despite constant ecological and political changes.
• As DNA evidence suggests, over 5,000 years ago, the people of this land were the first to domesticate horses. Indeed, the legacy of this innovation lives on in the Jabe horse breed – a hardy breed descended from the ancient Kazakh horse and celebrated today for its adaptability.
• More recently, in the 20th century, your countryman the prominent geologist Kanysh Satpayev was one of the authors of the world's first metallogenic map, the derivatives of which today serve as a crucial resource for geologists.
• And just 15 years ago, Shoukhrat Mitalipov co-lead the first cloning of a primate in the world, contributing ground-breaking work to a field that is still at the cutting edge of science today.
These are just a few examples of Kazakhstan's long history of innovation and adaptability, and of your tradition of being on the cutting edge.
Like Kazakhstan, Elsevier, too, has a long history – one whose course has adapted to the rapid changes of our industry. And like Kazakhstan, we are also leaders who strive to innovate.
• Our history dates back over 400 years, to 1580 when the original House of Elzevir was founded at the University of Leiden in the Netherlands and continued to operate until 1780.
The House of Elzevir was particularly instrumental in publishing important scientific and philosophical works of the time. For example, in 1638, Elzevir published Galileo Galilei's last and greatest work, Two New Sciences.
• In keeping with the Elzevir tradition of publishing fine quality classics, Jacobus George Robbers established the modern Elsevier company three hundred years later in Rotterdam, Holland, in 1880.
• In 1947, we published our first international journal in the field of biochemistry and biophysics – Biochimica et Biophysica Acta.
• As you can see, we have been in business for a long time, and we've become experts at what we do. But that does not mean we've become complacent. Our community's needs are changing, and we have learned that in order to best serve the global research community, we must change with it. We constantly strive to find new ways to help researchers do their work better and faster. Much of this innovation has been rooted in our keen awareness of the vast potential of the digitisation of publishing.
We made our first foray into information technology in 1972 with EMBASE, a multilingual database of medical abstracts.
Then in 1991, we launched the TULIP Project, an experimental university licensing program that delivered journals electronically over local university networks. Notice that this was even before the era of the web browser!
In 1997, we launched ScienceDirect, the first online full-text article database. This transformed the way scientists and researchers access and share information around the world.
• Today, Elsevier is a global leader in Scientific, Technical and Medical publishing.
o We serve over 30 million scientists, students, and health and information professionals, from academic research institutions to government agencies to corporate research labs, all the way down to individual researchers.
We publish more than 20,000 books and reference works, 85% of which are available electronically.
Every year, we publish more than 350,000 articles in more than 2,000 journals.
That's about 23% of all STM journal articles published worldwide in every scientific discipline.
What's more, we hold a 26% share of the world's citations, reflecting the high quality of our publications.
• We have always been and will continue to be committed to delivering the highest quality content to researchers, but in the digital age, where researchers are downloading papers from online databases and reading those papers on iPads or even smartphones, our role has expanded. We've moved well beyond content to meet the changing expectations of our community.
• The main outcome of advancements in digital technology has been an explosion of content – or what I call information overload.
Over the last decade, R&D investment has increased steadily by 2-3% annually across the world.
This has led to a 2-3% annual growth in the number of researchers, who in turn are producing about 2-3% more research outputs every year. And such research output growth has been especially high in developing countries.
• To provide the full benefits of such growth, our job now as publishers is to connect readers to the right content in the right context at the right time.
Today, we've expanded our expertise to the areas of research management and evaluation by taking advantage of the technological advances in data collection, maintenance and analytics.
We provide our customers with over 20,000 products and solutions to meet their evolving needs.
For example, in 2004, we released Scopus, the world's largest abstract and citation database of peer-reviewed literature – which we are here today to inaugurate in Kazakhstan.
And in 2009, we launched SciVal, our research performance evaluation suite, which is revolutionising how research administrators manage the research planning cycle.
Since then, we've been rapidly expanding our repertoire of research evaluation and management tools through product development and smart acquisitions.
It is solutions like these, solutions that go beyond print publishing to help decision-makers and researchers manage and evaluate their work, that are fundamentally changing the research landscape—I wholeheartedly say, for the better.
Elsevier's diverse operations and comprehensive data assets give us a broad global view of the world of R&D. This has equipped us with the necessary resources and expertise to support the international research community through partnerships with governments, academic institutions, technology companies, and other international associations and bodies all over the world.
• For example, the European Research Council has selected solutions from Elsevier to track publications and citations of projects funded across Europe.
• Similarly, the Australian Research Council selected Scopus & SciVal for their 2012 Excellence in Research for Australia assessment of the quality of the research at Australian higher education institutions.
• In the UK, we've partnered with the Royal Society of London to release their "Knowledge, Networks and Nations" report in collaboration with UNESCO, and the UK Higher Education Funding Body has selected Scopus for its Research Excellence Framework (REF), which assesses the quality of research in UK higher education institutions.
• In September, in partnership with Science Europe, we released a comparative investigation of research collaboration and researcher mobility patterns among states in the US and countries in Europe, based on our Scopus data, which addresses the growing interest in research as a primarily collaborative field.
• In November, Elsevier was invited to participate in the opening ceremony launching the EU-Russia Year of Science 2014 promoting collaboration between these two neighbors.
• In this region specifically, we have worked successfully with the governments of several individual countries—including Turkey, Azerbaijan, and Russia—to help improve their visibility on the global research landscape. As a result, these countries are able to improve their research quality, obtain more funding, and create more science jobs.
• And finally, here in Kazakhstan, we have been working closely with the research community for about two years. Since 2012, we have held over 150 events in Kazakhstan, including pro bono user trainings and author workshops, which are conducted by freelance experts all over the country every month. In 2014, we plan to hold 100 more such events.
I am humbled to note that despite the economic difficulties of recent years, our partners have consistently chosen to continue their use of our products and services—a testament, I believe, to the quality and mutual benefits of those partnerships.
Given the constraints of the financial crisis, I'd like to express my particular appreciation to the consortium members and the Ministry of Education and Science for their continued support of the valuable partnership between Elsevier and Kazakhstan through the signature of this national license for Scopus. The degree to which you clearly value a thriving scientific culture as an economic necessity is a heartening demonstration of your forward-looking attitude and of your determined path towards the Kazakhstan 2050 Strategy goal of becoming a top knowledge economy by 2050. The benefits of this strategy are already paying off: as of 2013, Kazakhstan leads the CIS region in publication output, and I am confident that with your continued efforts, you will be able to reach the goals outlined by your president last month in his State of the Nation Address.
I'd like to make one last point before returning the floor to Professor Zhurinov. At Elsevier, we feel that, as publishers, we are not the main event in research. Rather, we are supporting actors, here to make sure researchers and research executives get what they need, when they need it, as quickly and accurately as possible. It is our close partnership with stakeholders in the research community that informs the development of our products and services – not the other way around. Through these interactions, we've gained in-depth understanding of the trends that are revolutionising the research landscape, which allows us to work in the backdrop to provide the best tools to support the research community. We are not the ones doing the research or making the decisions: we are simply here to facilitate this important work, and that, for us, is a role we are extremely proud of.
I am thrilled to have this opportunity today to celebrate the growing collaboration between Elsevier and Kazakhstan. We believe in the inherent strength of Kazakhstani scholarship and the deep-rooted culture of innovation in this country. I want to assure you that we at Elsevier are committed to making sure the important work of the Kazakhstani research community takes its deserved place on the international research landscape. I'd like to end by borrowing from President Nazerbayev's speech last month when I emphasize to you that in our mission to support research and development in Kazakhstan, we at Elsevier see our partnership with your country as one of a "common goal, common interests, [and a]common future."
Thanks very much for your time.

2523